BigCamo.com Shipping Information
UPS TIME-IN-TRANSIT MAP for Ground/SurePost Packages SHOWN IN BUSINESS DAYS from our Headquarters in Birmingham: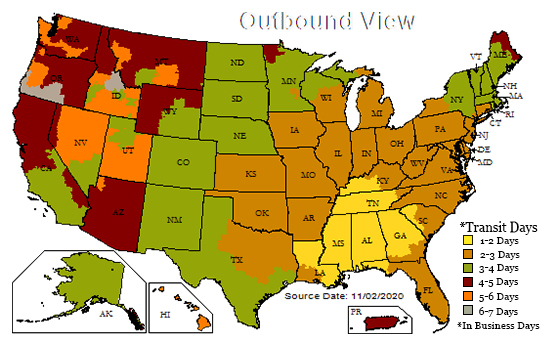 We get ALL packages shipped ASAP, and UPS NextDay/2nd Day Airs get HIGHEST Priority.
As you consider your timeframe please realize UPS AIRS (Next & 2nd Day) INCLUDE BUSINESS DAYS ONLY!
Timing is calculated from WHEN WE SHIP (Mon-Fri), NOT WHEN YOU ORDER
Packages DO NOT SHIP or ARRIVE Saturday or Sunday
FOR EXAMPLE - Orders placed after Wednesday at 230pm Central via UPS 2nd Day SHIP THURSDAY and ARRIVE MONDAY
WANT PRIORITY?
Here's how to get your order packed first and shipped first:
Online Order with UPS Next Day/2nd Day by 2:00pm CST (about 5% of all orders) - Highest Priority
Online Order with UPS Ground/SurePost Orders (90+% of all orders) - Next Highest Priority
All Others (Phone and other non-online) Standard/No Priority
We ship Mon-Fri, excluding UPS holidays, no exceptions and no weekend shipping
PLEASE Order Online!
Trying to order by phone during the season is very difficult, at best. You will get faster, safer and more accurate results by ordering online, we promise.
Shipping Charge By Order Subtotal Amount

Destination

Method

$0 - $99.99

$100.00-$150.00
$150.01-$200.00
Over $200.00

U.S. **

UPS Ground/SurePost
(2-7 days)

$12.00

$12.00
$12.00
$8.00

UPS Next Day
UPS 2nd Day Delivery

Billed at Cost plus Handling Charge.

Canada

UPS Expedited ***
(3-5 days)

Billed at Cost plus Handling Charge.

Other Foreign

UPS Global Expedited ***
(varies)

Billed at Cost plus Handling Charge.
U.S.A. LOWER 48 STATES DELIVERIES
Generally, if you order before 2:30 or so CST Tues-Fri, we ship that day. No kidding. On Mondays during the High Season (Oct-Christmas) we back up a bit on Mondays.
You will get a Tracking Number emailed FROM UPS about 5pm CST the day your package ships. It may end up in your spam folder, so check there first if you don't see one.
We Ship UPS Monday through Friday, and UPS Delivers Mon-Fri.
Saturday and Sunday do not count in UPS Next Day/2nd Day or most Ground Calculations of Shipping Time.
Check the UPS Ground/SurePost time-in-transit map at bottom for the best idea of how long shipping takes.
We ship "No Signature Req'd". If you want an adult signature for package release, there is a $16 surcharge.
UPS Air and Ground Shipment times (see chart below) are based on business days in the U.S., and do not include Saturday or Sunday, or International Destinations.
If you require INTERNATIONAL, ALASKA or HAWAII shipping, please see below.
Customer Originated Address Corrections after Shipment will be Billed to the Customer - Please take care and double check when ordering to ensure the correct address. We CANNOT ship large packages (over 8lbs) to a POBox or to a Post Office physical address. Larger packages must ship UPS Ground/Air, and require a deliverable physical address.
Please EMAIL with any questions, and we'll get back to you as quickly as possible. THANKS!!
Alaska and Hawaii
Guys, we love you but AK and HI orders with frequently high associated ship costs require that BigCamo.com give you a manual quote.

TO Order: Proceed online normally -- The $45 figure you see at checkout for AK/HI IS NOT YOUR QUOTE! We'll email you once you've ordered with a correct and calculated figure you can approve. We will calculate the best value option based on your package size and your time constraints (if any). Our system has no way to do this automatically, so we are left with this manual work-around, which we will try to get to you ASAP via email after we have packed/weighed it. Again, the $45 at checkout IS NOT your final cost, just wait to hear from us.



International Ordering
We will ship internationally, but only if:

The Product Value Ordered Exceeds 151 Euros for EU countries, and $150 for non-EU. No Exceptions
You follow our detailed process for securing a custom Shipping/Brokerage quote
You understand that there will be additional duty and taxes, due from you, that UPS will collect once your package arrives in-country.
You understand that we do not estimate, prepay or collect these fees, but they will be due prior to any delivery. Should you not make this payment, the package may be returned or abandoned, at your expense.

International Returns are not accepted.

For a step-by-step process on how to place an order and get a shipping quote, visit The BigCamo.com International Shipping Process Page

for all the details.

UNITED STATES DELIVERY FOR THE LOWER 48: UPS TIME-IN-TRANSIT MAP for Ground/SurePost Packages SHOWN IN BUSINESS DAYS from our Headquarters in Birmingham: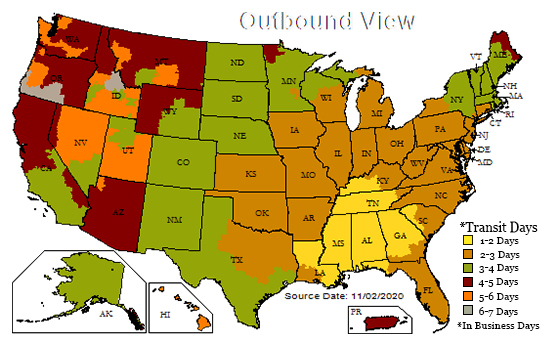 Track Your Order Here