2015s Are Starting To Arrive - Check out the Scent-Lok and Berne Product Page. ALSO - SUMMER HOT SALE - See below!

WELCOME to the World's BEST outlet for HARD or IMPOSSIBLE to find BIG and TALL camouflage hunting clothes, accessories, shooting gear and workwear
Exclusively Endorsed By King Size NFL Legend William "The Fridge" Perry
---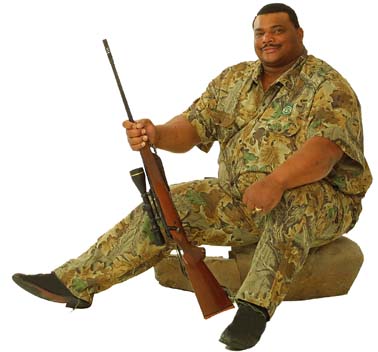 Our Goal is to ship great Big/Tall gear solutions with blazing speed and exceptional value! As a small outfit, we have two respectful requests:
PLEASE EMAIL us your questions
Most importantly PLEASE ORDER ONLINE!

HOW FAST CAN I GET IT?? Our Ship Info Page has a UPS Map that shows days in transit right to your door! Check your package times by clicking HERE! .
WANT PRIORITY? Orders placed ONLINE with UPS Next/Second Day Service get top priority. Other ONLINE orders (which is 97+% of them) are next. PLEASE Order Online!

Trying to order by phone during the season is very hard, at best. You will get faster, safer and more accurate results online, we promise.

Got a Question? Please look at some FAQ's and answers right here, about Catalogs, International Ordering and Shipping Speed.


WAREHOUSE CLEARANCE SPECIALS - ALL LOWEST EVER PRICING!:

WADERS IN STOCK!
GHILLIE SUITS! Big and Tall All The Way To 8XL - WOW!


Yes - It took BigCamo.com to make it happen! It's just about the best you can find, and incredibly we have them in sizes that FIT! Oversized Headpiece, Jacket and Pant combo. Sized in either a 4/5XL, or a 6/7XL set. Each set comes complete in its own carry bag. LETHAL!!
$119.99 $92.99 On Sale!
SKU: WFS-Ghillie
Bog Boots, Men's Classic Mid, Black


NEXT TO OUR MOST POPULAR CAMO BOOT, THESE BOG MIDS ARE THE MOST POPULAR ALTERNATIVE. NOW IN EXPANDED SIZES, 12 TO 20!
$99.99 $79.99 On Sale!
SKU: BOG-ClassicMidBlack
LEAFY SUITS! Huge Big Man Sizing up to 8XL!!


SCORE!!Once again BigCamo.com makes it happen! It's just about the best you can find, and incredibly we have them in sizes that FIT! Oversized Headpiece, Jacket and Pant combo. Sized to fit YOU up to 7/8X!. Lightweight and LETHAL!!
$99.99 $63.99 On Sale!
SKU: WFS-Leafy