WELCOME to the World's BEST outlet for HARD or IMPOSSIBLE to find BIG and TALL camouflage hunting clothes, accessories, shooting gear and workwear
Exclusively Endorsed By King Size NFL Legend William "The Fridge" Perry
---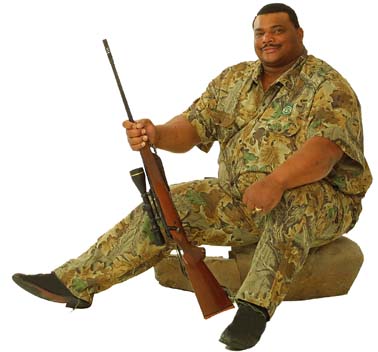 Our Goal is to ship great Big/Tall gear solutions with blazing speed and exceptional value! As a small outfit, we have two respectful requests:
PLEASE EMAIL us your questions
Most importantly PLEASE ORDER ONLINE!

HOW FAST CAN I GET IT?? Our Ship Info Page has a UPS Map that shows days in transit right to your door! Check your package times by clicking HERE! .
WANT PRIORITY? Orders placed ONLINE with UPS Next/Second Day Service get top priority. Other ONLINE orders (which is 97+% of them) are next. PLEASE Order Online!

Trying to order by phone during the season is very hard, at best. You will get faster, safer and more accurate results online, we promise.

Got a Question? Please look at some FAQ's and answers right here, about Catalogs, International Ordering and Shipping Speed.


Check out these late Spring Specials:
BOSS GOBBLER Turkey Vests!
WE HAVE WADERS!