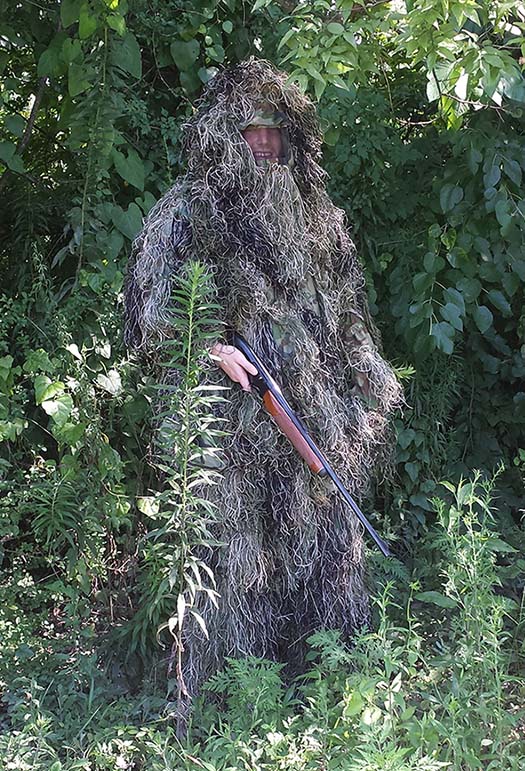 GHILLIE SUITS! Big and Tall All The Way To 8XL - WOW!
SKU: WFS-Ghillie

$119.99
$89.99 On Sale!
We bet you have looked for years to find this kind of concealment. Look no more - we have what you want and it not only will fit you but it is a superior value, too!
BINGO!
Lightweight breathable mesh backing in the famous Woodland camo pattern (not that you will see much of it...)
Scent free synthetic string in multiple dyed colors
Loose fitting, but with elastic at key points for articulated fit even as you move
Mildew and rot reisistant
Fully separate head piece with drawcord and bell
Snap front jacket, elastic cuffs, pass-through pocket slits
Pants have elastic waist with drawcord/lock and 10" leg slits with snaps for easy on/off
4.2lbs total weight with
2 MASSIVE SIZE OPTIONS!!
Here's how the package comes (left) and the suit rolled together (it's inside out for packing):
The 4/5X set has an oversize head piece plenty large enough for your melon. Thin mesh panel for good visibility.
4/5XL jacket is 70+" in the chest with light elastic waist and stretches well over 70" fully extended. It's 35+" down the back. Is has 39+" sleeves, and elastic cuffs.
4/5XL pants are 70+" fully extended. They have a drawcord and elastic waist - like sweats - and a very generous stride. Inseam of 31+", big thighs and calves.
Like we said - IT WILL FIT YOU!
ONE STEP SIZING -- If your thickest part (waist/belly/chest) is OVER 63", get the 6/7X. Otherwise you're good with the 4/5XL. The jacket is about 5" bigger and the pants are about 5-6" bigger on the larger set.
This is THE suit for hunting, as you know. You cannot beat the concealment, the cut or the value on these oversized monsters.
Here it is again - Awesome!