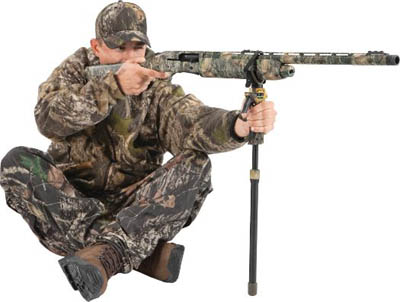 Primos Trigger Sticks - 2 SIZES!
SKU: Primos-TriggerStick

$69.99
$41.99 On Sale!
We like easy - easy is real good. This device is easy, since Primos likes it that way, too.
With just one hand and the pull of a trigger, you can adjust the Primos Trigger Stick to your desired height. The Trigger Stick is a lightweight height-adjustable gun rest and optical gear mount, perfect for sitting, kneeling or standing. It comes equipped with a detachable V yoke. The Trigger Stickô fits 1/4"-20 & 3/8"-16 threaded fixtures for securing optical gear. It is perfect for cameras, spotting scopes, binoculars, laser range finders and almost any other mono pod mountable device.
Squeeze to release and it drops down - squeeze again if you need to lower your position - ALL WITH ONE HAND.
The short mono Trigger Stick extends to 30" (see the turkey hunter pictured), while the Tall version extends to over 5ft, has 3 collapsible tubes and if perfect for the open range. Make 'em dead with a Trigger Stick!
See a YouTube presentation by CLICKING FOR TRIGGER STICK RIGHT HERE