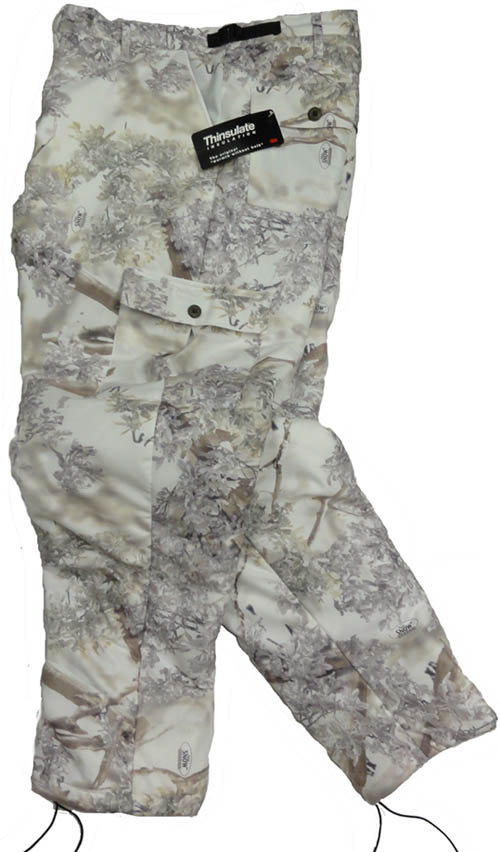 Thinsulate® Snow Camo Insulated Pants, WeatherProof Fabric
SKU: OO-Snow-Thins-Pants

$199.99
$92.99 On Sale!
More Thinsulate® Gear! The outer is constructed of WIND/WATERPROOF microsuede fabric in Snow Camo by King. These are soft and quiet - but also very tough and long lasting.
The pants are our famous-fitting 6 pocket design, with an increased stride to allow for the extra thickness of the fabric and Thinsulate® liner.
It is lined with a black nylon quilted layer of 150 grams of Thinsulate®. Beat the chill, beat the wind and beat the bulk with the SnowCamo/Thinsulate® combo you'll wear all late season. These also HAVE A DOUBLE LAYER SEAT
Sizing Tip -- The 5XL Pants measure well over 60", so you'll have layering room underneath. All have about a 32-33" inseam, in order to fit most builds. This rig is pretty sweet, if we do say so!
Performance Tip - the fabric is 100% waterproof, and with USA production we have not been able to tape the seams. This means that overall, it's pretty weather resistant (like a Filson wax cotton pant). Aftermarket sealers like Hunt-Dri on the seams might help if you encounter any seam stretch leading to a leak. THANKS!