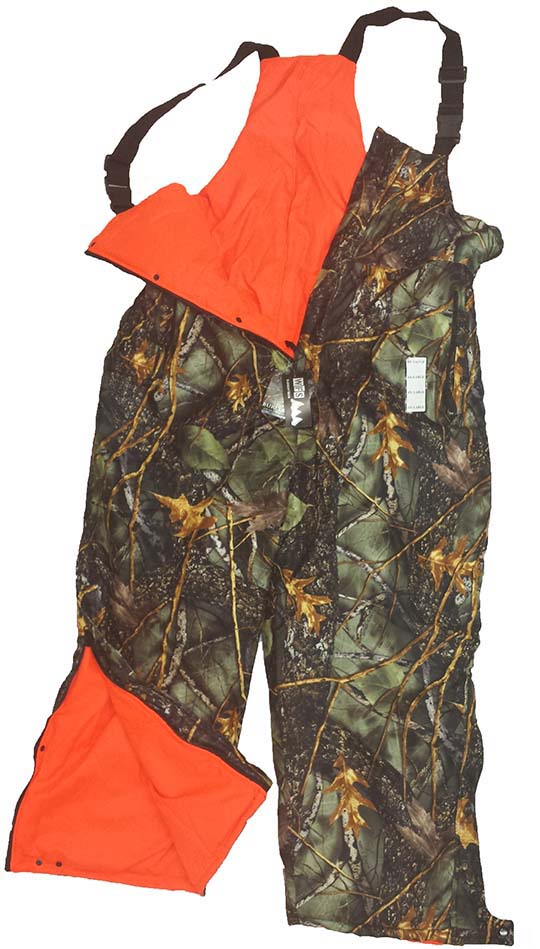 BigCamo.com Burly REVERSIBLE Waterproof Windproof Insulated Hunting Bibs
SKU: BU-BibReverse

$159.99
$68.80 On Sale!
Waterproof, Breathable, AND INSULATED!!
Did we say REVERSIBLE!
Elastic gather across half back for good fit
Zip to Knee Leg Zips, fully covered with storm flaps
Twin Flapped Zipped Front Pockets
HUGE 10"+ right rear zipped pocket
Adjustable Leg Hems (snaps) and Snapped Leg Storm flaps
LEGAL BLAZE reverse side, waterproof and windproof

Sizing Tips:

With these bibs we tried to get a better fit for a "short-to-not-too-tall" set of guys. These are not as Tall a cut as ones we have had before. Probably a better bet for the 6'2"ish or shorter crowd
Inseams are 29" on the 4X and only 30" on the 6X
4XL - 63" at top, 62" belly/waist and 66"+ seat
6XL is 67" at top, 66" belly/waist and 70"+ seat

Depending on how you like your bibs, you may want TO ORDER UP A SIZE since if it's too tight it won't be as effective. We did try to get a bib that did not swallow folks whole, like our Midnight Black Waterproofs or the Kodiak Bibs.

All in all - an Extremely nice rig for an OUTSTANDING PRICE!!