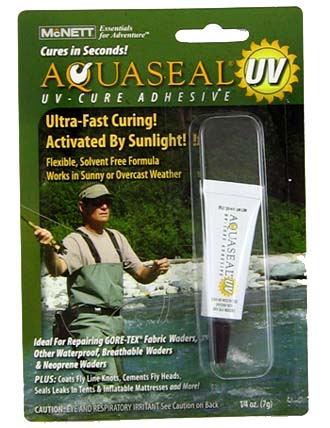 Aquaseal UV-Cure Adhesive
SKU: Aquaseal UV-Cure

$12.99
$6.99 On Sale!
"Ultra-fast curing, permanent, flexible, and indestructible adhesive activated by the sun or artificial UV light..."
Repairs all types of wader fabrics and materials including breathables. Provides superior adhesion, wear resistance, flexibility and waterproofing. Repairs can be stretched and folded yet still spring back to their original shape without any damage. Highly concentrated formula provides thick repairs and minimal adhesive shrinkage with only one permanent application.
A small tube of this product will provide nearly instantaneous repairs on items that need to remain waterproof. The process for using McNett Aquaseal UV-Cure is quite simple.
Open tube of Aquaseal.
Apply to surface quickly.
Expose surface to sunlight or artificial UV light
Wait five minutes.

Go ahead and get some, you know you'll need it!

Here's a link showing how: How to use Aquaseal