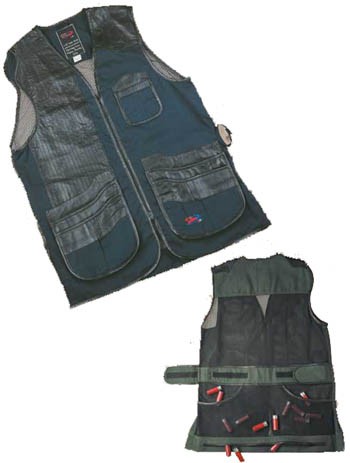 LOWEST PRICE EVER! Sporting Clays Vest, Leather, in Big and Tall Sizes
SKU: SV

$179.99
$54.99 On Sale!
CLOSEOUT - ON one of the finest vests around. Like the Clays Mesh, you will score a perfect round with this excellent vest from Pavillion, makers of America's Finest Sporting Clays Gear.
100% Leather shooting recoil pad and pocket accents
2 Large capacity swooping pockets
Rear reloaders pouch for empty hulls
Mesh back allows for air circulation
"State of the Sport" no-bunch shoulder design
Accessory pocket for shooting glasses
Fully adjustable waistband

This top-of-the-line vest has only the finest 100% cowhide leather, which means both years of durability and quality appearance. Remember, it only takes a little extra to go First-Class and this value cannot be beat!