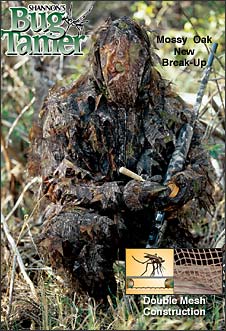 CLOSEOUT Bug Tamer Jacket or Pants or Glove SEPARATES
SKU: 3dbt

$86.00
$79.00 On Sale!
CLOSEOUT -- Separates in outstanding 3-D concealment in a lighter, tougher garment than in years past. Bug Tamer took the best out there and made it better -- Bug Tamer's patented Double-Guard protection that keeps insects from ever making contact with your skin is now about 40% lighter, and over 50% tougher. Pair that with bigger leaves on the 3-D in Mossy Oak's New Break Up or REALTREE's Hardwoods Green HD for unparalleled camouflage qualities.
Jacket features fully zippered front, pockets and a pull-over hood for complete protection. Better visibility through the hood.
Pants have a draw-string and elastic waist for comfort, and draw-string leg cuffs. Both jacket and pants are generously cut to allow for layering if necessary.
Mitts have 3" finger slits for easy string or trigger access. The mesh design lets the breeze in, but no bugs. Knit cuffs for a good fit.
SIZING TIP: Pants are 67++" waist fully extended.The jacket is plenty big for a 4/5X man, with over 70+" of room inside, and is 34" long down the back.
You'll be quiet, still and comfortable -- be the hunter and not the hunted!