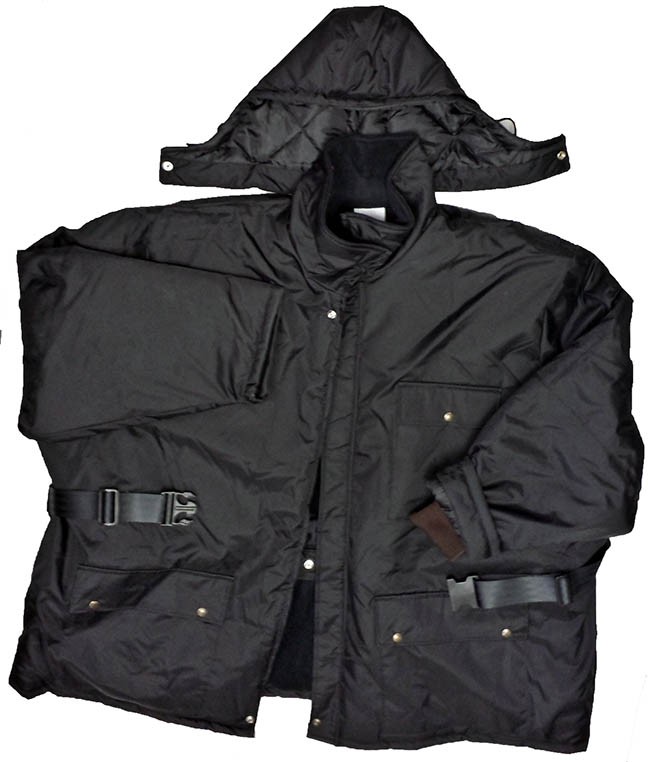 SALE! BigCamo.com Snowmobile Parka, in 6X, 7X and 8XL Big Man Sizes
SKU: BC-Snowmobile

$229.99
$139.80 On Sale!
We are pleased to bring this superior parka to you. It's made of a tough, waterproof BLACK nylon outer, with a warm heavy black fleece inner layer, and 10oz of polyfill insulation as well. Made by our buddies in Montreal, this rig is HUGE for layering so you can enjoy all the icy pleasures all winter long. If the guys in Canada say it's warm, we believe them!
Perfect for snowmobiling, skiing, icefishing, hunting or just sitting around being "The Man".
Removable Insulated Hood with snaps, drawcords and bells
Action-back sweep for extended range of motion
Storm flap/snaps over full length zipper
Inner snow skirt, snap closure
Extra-long wind-blocking sleeves cover interior cuffs
3 Large front snap/flap cargo pockets
Exterior heavy duty cinch belt/buckle
NOTE ABOUT WATERPROOF QUALITIES: The outer fabric all all waterproof. The seam are double lock stitched, but not sealed. For 100% waterproofing, consider an aftermarket sealer periodically
SIZING TIP: 7XL has 80" in the chest and belly, 43" sleeves and is 37" long down the back
Get one and don't go home!