Ducks Unlimited Edition Stout Bootfoot Waders
SKU: mad dog waders

$169.99
$127.99 On Sale!
Oversize Outfitters worked with the design team at Stearns to bring larger hunters Mad Dog Gear¿s new Ducks Unlimited® 3.5mm Lug Sole STOUT Chest Wader. They¿re cut and contoured to fit the chest, waist and thigh measurements of larger men and come in boot sizes 9 through 15. We asked the designers for a lower 9" high boot for better calf comfort, which is available on the size 13 and larger bootsand as far as we know it's one of very few waders made this way for big guys.
Mad Dog Gear built these heavy-duty chest waders from high-back 3.5mm neoprene that provides warmth and mobility. For extra durability where it's needed, the kneepads feature an additional layer of neoprene. Deluxe, adjustable padded suspenders with quick-release buckles ensure a secure, comfortable fit. For storage and convenience, the waders feature a large, two-way front handwarmer/cargo pocket with storm flap. Accessory attachment is a snap thanks to three rugged D-rings. And to keep feet warm, the boots have an ankle-fit design and a combination of 400-gram Thinsulate¿ Insulation and closed-cell foam insulation.
Available in Advantage® Max-4D camouflage.
SIZING TIP: Size 13 and up -- These are a good 3XL, maybe a tight 4XL, measuring about 56" through the waist and chest. The calf should be able to accomodate up to a 25" about 15" above the heel. Size 12 and smaller aren't quite as big, with maybe53" through the seat in the 12 and a little smaller each boot size down
Get a FREE 6 month Ducks Unlimited membership with each pair!
Don't forget to pick up a new Aquaseal Wader Repair Kit by clicking Aquaseal
A Sad Note - Coleman Inc bought Stearns last year and has elected not to continue this product for us. It's one of a number of unfortunate changes there, none of which sit well with us. We're sorry, as sorry as we can be.
Customer Photos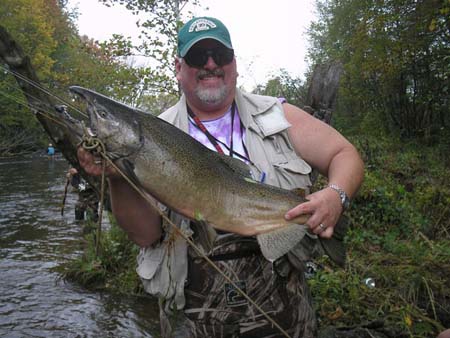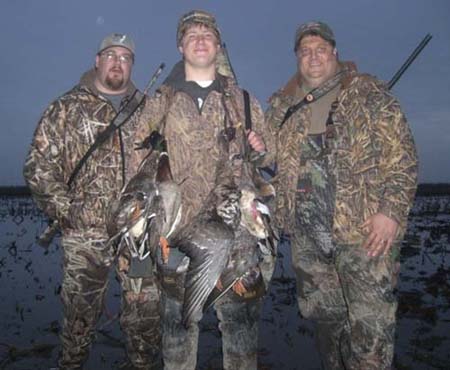 Here is Bret McCormick and son after a once-in-a-lifetime duck hunt. Thanks to the Mad Dog and Itasca Waders they were able to wear them out! CONGRATULATIONS!!