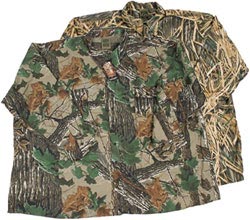 Long Sleeve Button-Up Shirt CLOSEOUT SALE on Advantage, Xtra Brown and Shadow Grass Patterns
SKU: 50000

$44.95
$19.99 On Sale!
HOLY COW -- SUPER LOW CLOSEOUT PRICING ON YOUR ALL-TIME FAVORITES!!
Ask William "The Refrigerator" Perry why he loves these shirts. These long sleeve cuffed button-up shirts feature extended tails and sleeve length (just over 38" on a 4X) for added comfort. The shirt is made of a soft, silent 7 ounce Poly/Cotton blend. It features two front chest pockets with button closures. We think this may be the most comfortable shirt you've ever worn, and it's long enough to not leave you with a plumber's b$%#.
Load up while the prices and shirts last!