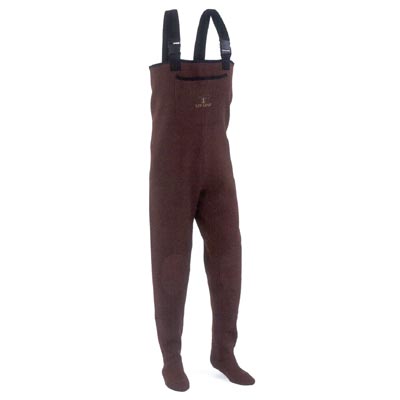 SALE!! Stockingfoot Neoprene 3.5mm Big and Tall Chest Waders in Sizes 2XL to 10XL
SKU: S-119

$149.99
$99.99 On Sale!
These have been our most popular model ever, and for good reason. They fit, and they are a superb value. Priced from $79.99 for a 2XL, to only $99.99 for up to a 10XL! That's a lot of wader! Features include: High back 3.5mm hi-stretch neoprene, with a stocking foot that fits most feet. Adjustable suspenders. Large handwarmer front bib pocket. Padded knees. Hypalon soles. Three D-rings for accessory attachment. Gravel Guards are included. For a Wader SIZE CHART, just click HERE and look for the custom chart at bottom for waders. The 2XLTalls have roughly a 38" inseam, and the Bigs are all about 32-33".
Please note that Next Day and Second Day wader shipments generally incur a surcharge above what the checkout register calculates. To be sure of your Next/2nd Day total, please call us. THANKS!
Don't forget to pick up a new Aquaseal Wader Repair Kit by clicking Aquaseal
A Sad Note - Coleman Inc bought Stearns last year and has elected not to continue this product for us. It's one of a number of unfortunate changes there, none of which sit well with us. We're sorry, as sorry as we can be. We are working to replace these when they are gone with other super value, high quality wader options for you. THANKS!
Customer Photos