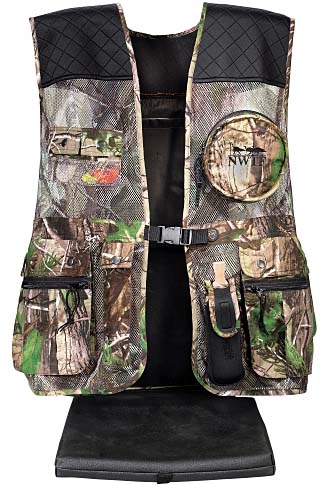 Walls Outdoors NWTF Turkey Vest, Big Man Sizing
SKU: WA-TVest

$89.99
$59.99 On Sale!
Our Walls representative whipped this out with a big smile on his face. Loaded with features, endorsement from the NWTF and a chest that measures 64"!
Let's take a look, eh?
100% Cotton Shell, with Light, Breathable Mesh Panels
Removable Padded Seat
Hard-wearing Textured Vinyl on Drop-Down Seat Pad
Large Expandable Game bag with Coated Nylon Lining
Padded Spine (w/ removable pad)
Quilted Neoprene Box Call Pocket
Twin Mouth Call Pockets on the Right Chest
Quilted Left Chest Pocket for Glass Call
Lower Left Neoprene Box Call Pocket
Lower Right Striker Pocket
Two Inside Zippered Mesh Pockets
Two Lower Zippered Patch Pockets Attached to Bellows Pocket
Concealed Blaze Safety Flag in Back
Two Lower Bellows Pockets with Snap Flap Closures and Shell Loops on the Inside

You lacking anything? Thought not - this thing's a jewel, and with a 64" chest, and 31" length down the back, it'll fit a bunch of our customers. Pay no attention to the "XL" label - it's way bigger. Load up and pop Tom upside the head!