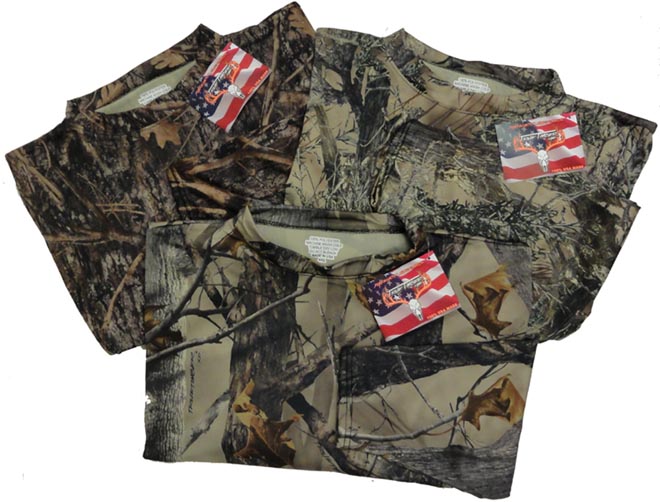 True Timber Microfiber Performance Long Sleeve Tee
SKU: TT-MicroTee

$47.99
$29.99 On Sale!
KNOCK EM OUT! New patterns, new fabrics and new designs. Possibly the most comfortable item you can own. Feel good. Be lethal.
Light microfiber (it's a poly knit - like Under Armour) in new patterned crews from True Timber. These are the full cut fit that we have yet to talk Under Armour into making for anyone besides the guys on the field. Looks like a cotton tee, but has significant differences. The hand is very, very smooth, and unlike organic fibers that embed odors, this poly-microfiber tends not to. Won't hold moisture, and dries quickly. Comfortable year round, strong and will hold that camo pattern for a long time.
Sizing Tip: The 4XL fits a guy who is 58-60" in the chest (it's close to 69"), and the shirt is 36+" long down the back. The 5XLs and 6XLs are 4" bigger each through the chest and even longer in the back. The 8XL is about 80" in the chest, so don't get one unless you're 70-72" or better.
Pattern Decoding:

"Conceal Classic" is the top left
XD3 is the bottom
MC2 is top right

All are highly effective in a huge variety of settings, and blend easily with other patterns, but get whatever you like.