BigBoy Itasca Waders, ONCE AGAIN Both TALL and BIGMAN Models
SKU: BigBoy2012

$310.99
$202.99 On Sale!
Itasca and BigCamo deliver through our exclusive custom-made program for Waders designed just for you!
These bootfoot models feature the LOWER CUT boot that we innovated years ago, to allow more room for Dolly Parton Size Calves. Boots are only 8.5" high above the heel, so there's stretchy neoprene where the rubber top used to be. WHO LOVES YA??
MORE STANDARD FEATURES:
3.5mm neoprene construction, to give a little more comfort to big builds
Hi-Back design
Fleece lining for warmth
Expandable side panels(BIG MAN ONLY) allow for OVER 64+" of comfortable room through the CHEST and SEAT!
Hand warmer chest pocket
Suspenders with quick release buckles (Please note: Buckles are M/F one side and F/M other - it's not a mistake)
Ankle-fit construction
3 D-Rings
Reinforced knees
1200gram Thinsulate Ultra Insulation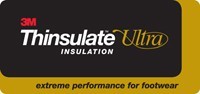 6mm wool felt midsole
Power-Cat Omni-Traction outsole
Boot openings are 17" at top, 8.5" above the heel with a 22" relaxed calf measurement. Thighs are about 33" relaxed.
A Word About the XXTall models -- with a choice of 15 or 16 boot. The 2XLTALL measures about 46-48" relaxed chest/waist. It has a generous body for a VERY Tall build (generally 6'8" or taller), and an inseam of 38".
Please note that any Overnight or Second Day Shipping will definitely incur a surcharge above the dollar amount the checkout system calculates. We'll add this automatically, so please take note on Air Shipping --
Don't forget to pick up a new Aquaseal Wader Repair Kit by clicking Aquaseal
STOCK UPDATE 9.18.13: The 4/5XL Big Man models we had this year are apparently all we can expect through the end of the year, per our Itasca contacts. We are looking for more suppliers, but as you guessed, it's extremely difficult to find manufacturers willing to make the big sizes in the small production runs. We are not guaranteed to have any more Itasca's even in 2014, but we remain hopeful.We will keep looking!
On the plus side, we do have the breathable stockingfoot models, The Columbia Sportswear Cowlitz Waders, in stock as an option. THANKS!
Customer Photos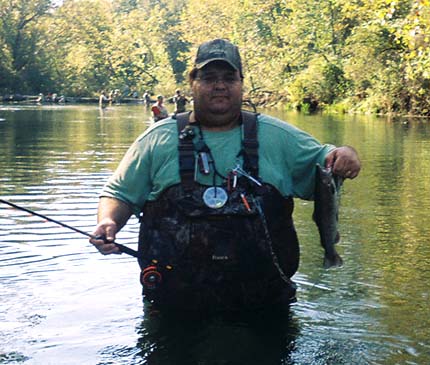 The attached picture was taken at Bennett Spring State Park on Sunday, October 7. My Big Boy waders kept me comfortable and dry in the cold spring-fed stream. The D-rings on front and back were useful for holding my stringer and dip net within easy reach. I didn't land a trophy, but the rainbow trout pictured was both my first Missouri trout ever and my first fish ever caught by fly rod. Thank you Big Camo for your part in making it a successful outing. Dean B. Wichita, KS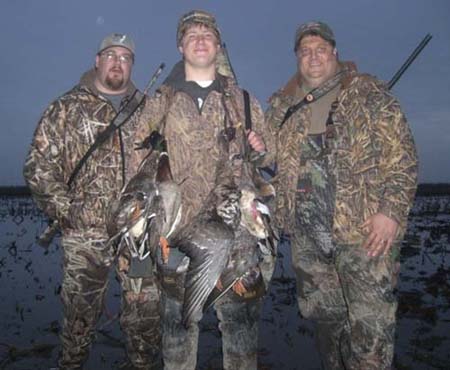 Here is Bret McCormick and son after a once-in-a-lifetime duck hunt. Thanks to the Mad Dog and Itasca Waders they were able to wear them out! CONGRATULATIONS!!