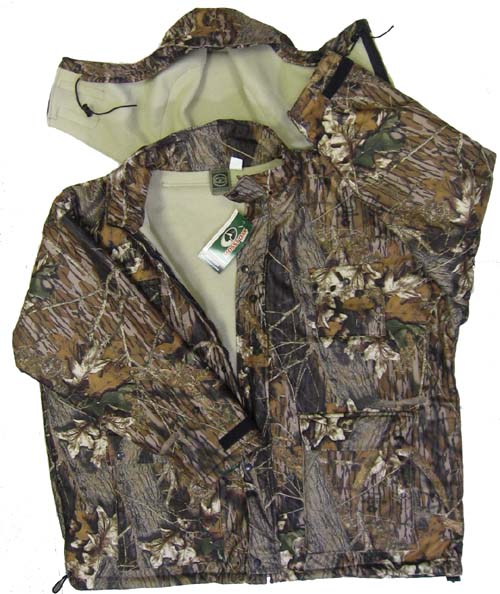 The Grizzly - Insulated, Fleece Lined, Waterproof Fabric, Big and Tall!
SKU: OO-Grizzly-Jacket

$210.99
$159.99 On Sale!
MICROSUEDE Gear! This one, The Grizzly, features the applauded full-cut style of our ShadowGrass Suits and our Scent-Lok suits. The outer is constructed of WIND/WATERPROOF MICROSUEDE.
The jacket has 2 sets of front flap/snap pockets, and lined hand warmer pockets, as well as twin large interior mesh pockets (that's 8 total). It has a storm flap covering the full front zipper, and velcro closures on the wrists to cinch up for a good fit. It's also got a zip-off fully lined hood with visor. Double waist drawstrings at the sides mean cinching up around the waist is easy.
It is lined with a heavy tan Sparta-Tec fleece that is thick enough to make a throw blanket out of. Beat the chill, beat the wind and beat the bulk with the Micro/Fleece combo you'll wear all season.
Sizing Tip -- The 5XL jacket has about a 72" chest, and measures just about 36" down the back with 40" full-cut sleeves.
Performance Tip - the fabric is 100% waterproof, but with USA production we have not been able to tape the seams. This means that overall, it's highly water resistant (like a Filson jacket). Aftermarket sealers like Hunt-Dri on the seams might help if you encounter any seam stretch leading to a leak. THANKS!
STOCK TIP: Just about gone - if we acquire more fabric we'll run some, but it's hard to get domestically. NOTE - Some jackets have black fleece liners and some have tan. Same heavyweight fleece.