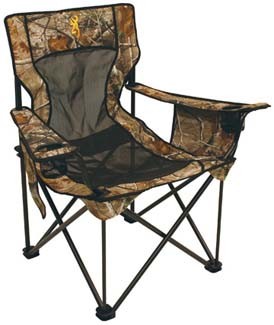 FIRE SALE Browning BIG MAN'S Kodiak Chair - RATED TO 800LBS!!!
SKU: Browning-FIRE

$89.99
$23.00 On Sale!
These were boxed 2 to a box, and are packaged inside a nylon carry bag. No burns, just a little BBQ smell. We think it wears off. It's a camp chair, so we also don't think that matters too much. Get a great deal on a super chair! Original item description is below.
FINALLY! Some geniuses (NOT US) found a way to make a light, portable, good-looking and comfortable chair THAT WORKS FOR OUR CUSTOMERS! This rig is very comfortable (it's worth saying more than once), is 38" wide at the arms, and is RATED AT 800LBS! WOW!
What else does it feature? Let's see:
Sturdy Powder Coated Steel Frame
Compact Foldable Design
Cool Reinforced Mesh Center - it BREATHES
2 Beverage Holders (one on each arm)
Hanging Pocket on Both Arms to Store Small Objects
7" x 41" Black Nylon Shoulder Carry Bag Included!
Patented Piston Support

Specifications:
Seat Dimensions: 38" wide x 20" deep x 38" high
Fabric: Realtree AP HD
Total Weight: 13 lbs.
Capacity: 800 lbs.
Seat Height Front/Back: 21"
Chair fabric specs: Seat Width: 24.5", Seat Depth: 20"