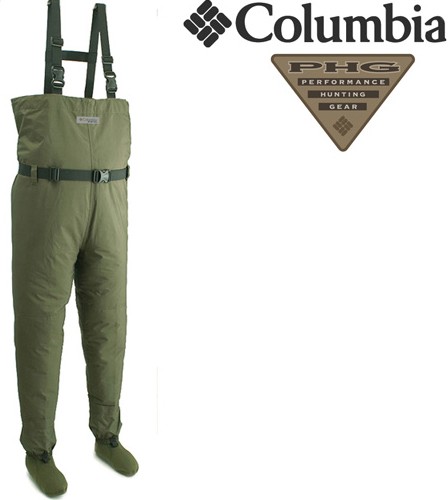 Columbia Sportswear Cowlitz (Rogue River replacements) Big Man Breathable Waders, up to 72" Chest
SKU: COL-Waders-RR

$249.99
$184.99 On Sale!
OUTSTANDING and PHENOMENAL NEWS, it's a NEW, TOUGHER STYLE FOR THE BIG GUY that is at least 10" bigger than our last set of big ones! The guys at Columbia Sportswear bust a lot of @$$ for us and you guys uy hammering some folks overseas who don't know too much about BIG!!! We are THANKFUL!
Oversize Outfitters and BigCamo.com worked once again with the design team at Columbia to bring larger hunters and fishermen yet another oversized version of the Breathable Wader. First we had River Lites, which were great. Then we had Steelheads, which were great, and also tougher. Then we had Rogue Rivers, another style with heavier-duty fabric.
These are Cowlitz Waders, a little different name but really exactly like the Rogue Rivers. Columbia built these lightweight chest waders with both size and performance in mind. They feature:
Breathable 5 Layer Taslon outer shell. It's puncture and abrasion resistant.
Reinforced Crotch, Seat and Knees
Zippered, inside chest pocket.
Quick Release Wading Belt
Quick release buckles.
Built-in suspenders.
Lightweight but damn tough
Integrated Gravel Guards at top of Stockingfoot
Perfect for travel, and Includes Mesh Travel/Tote Pack.

Sizing Tips (Check out our size chart page to see your body size, then check these fabric specs):
4XL has a 63" chest, 68" hip
5XL has a 68" chest, 74" hip
6XL has a 72" chest, 77" hip

The thighs are all about 34"ish and the calf is 21.5" when measured 14" above the heel. Inseams are about 33-34". The stockingfoot is neoprene and stretches. We think it starts feeling tight somewhere around size 15, but it depends on the foot/customer.

STOCK TIP,4.18.14: Our last shipment arrived, and included waders from a separate production run. Unfortunately, they were WAY off specs, as the 6XL was at least 12" smaller than it should have been. So, we don't have the backup inventory to sell at present. Columbia is working on a new factory arrangement, and tells us we ought to have more (that fit) in July or Aug, but for now, we have hit the wall. SORRY!

OFF-SIZE SPECIAL!! We DO have several of the ones that were sized incorrectly. There are three sizes by chest measurements: 57", 60" and 62". The 62" wader is 62" in the chest,and about 66"+ in the seat, and has a 37"+ inseam. So, a GOOD 2XT/3XT, if you need one. GREAT PRICE, TOO!

PS - Send us Trophy Pics of you and BIG FISH!!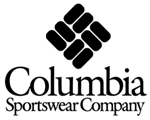 Customer Photos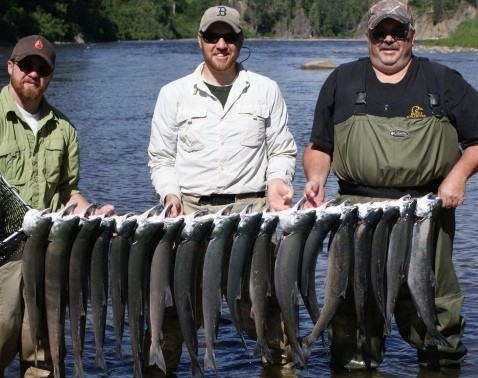 Here's Tom from Utah in Alaska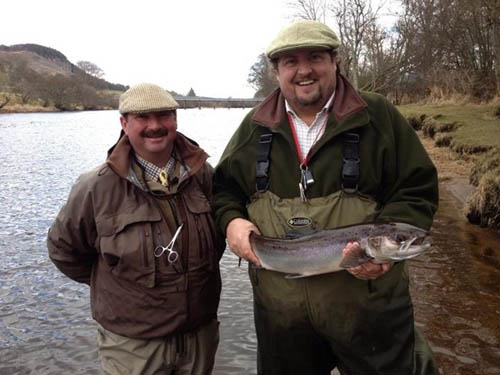 And here's Andrew Bleasdale in Scotland from April, 2013