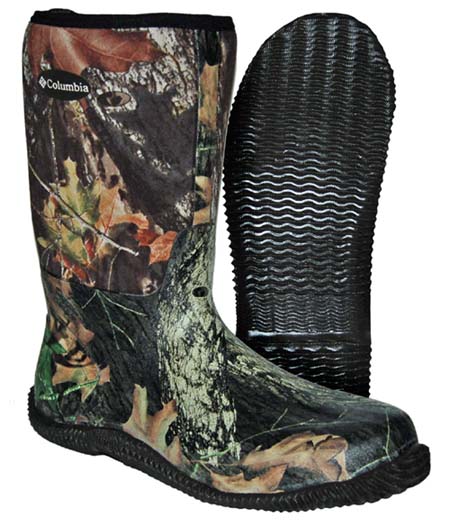 Columbia Sportswear BigCamo.com Boots for BIG FEET!
SKU: COL-BTS-BC

$99.99
$69.80 On Sale!
Columbia Sportswear believes in the BIG outdoorsman, and believes in our ability to gear him up. We fashioned a boot similar to their other models, but made it to fit our customer. They are:
100% Waterproof
Comfortable right out of the box
Low maintenance - no polish or waterproofing
Measurements: the 16's are 15" high, have an upper opening of close to 19"

The Durable Waterproof lower is mated with a stretchy neoprene upper. This is where you get that fit you cannot find in other leather or hardened rubber boots. The top will stretch to fit you, even if you have Big-Ass Dolly Parton Calves. Too hot? It's plenty supple so roll it down and make an ankle boot.

Fitting tip - These boots are brand new, but we expect they fit "true" to the label. If we get customer feedback that says any different we will let you know. They don't have specific widths, but the sole has "give" and will accomodate wide feet or ankles due to the way they are constructed. So, if you have a EEEE foot, you are in the right place. We are really fired up to bring you another super boot at a SUPER PRICE.